Compare and contrast.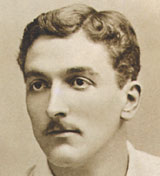 CB Fry - an Edwardian "athlete". As an undergraduate at Oxford, Fry played football for England, equalled the world long-jump record (reputedly while smoking a cigarette), and took a 1st in Classics. Subsequently, he played for Southampton in the 1902 FA Cup, but is best known for his cricket. Fry played for England (which he also captained) & Sussex, with a first-class average of over 50 and, in 1901 six successive first-class centuries. He was subsequently offered, but declined, the throne of Albania.



Andy Fordham - 30 stone, 25 pint-a-day, darts player. Now officially, according to Sports England, an athlete and the new face of English sport.