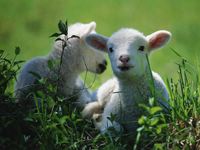 A slightly more provincial news story for your attention today. I was idly thumbing though the
local paper
today in a spare 5 minutes, when I noticed a story which shocked me to the very core
SHEEP WORRYING
– in this day and age!!
Killer dogs are believed to be on the rampage in the local area after motorists reported seeing the remains of sheep which had been torn apart.
Be on your guard - ed.

The sheep were the property and business venture of a farmer, who's sturdy electric fence had been torn to pieces in the attack. Several lambs were missing – presumed eaten and a pregnant ewe had been slaughtered also.
This is apparently nothing new for the area – Farmer James Brown (no relation) recently reported several sheep being so badly gored that they needed to be destroyed! "It was a terrible sight. The dead sheep had been ripped to pieces and partly eaten and there was wool everywhere." according to a distraught Mr Brown.
"It was a very dangerous situation
on the roads on Monday night"

The local police are treating the matter seriously, PC Richard Nunn said "It was a very dangerous situation on the roads on Monday night. It had been snowing and the conditions were treacherous. This could have caused a major accident. We think rogue dogs had attacked the sheep and frightened them out of their field."

He was concerned that now this pack of almost-certainly domestic dogs now have the taste for blood, and that "Any farmer spotting dogs worrying sheep is entitled to shoot them."

"Any farmer spotting dogs worrying
sheep is entitled to shoot them."
Local dog warden, Pip Singleton stated "I am shocked to hear the news. We have received no complaints about dogs on the loose. As there have been no sightings, we do not know for sure that this is the work of domestic dogs."
In my own personal view I think that the official investigation is 'barking up the wrong tree' (if you'll pardon the pun) I think the real perpetrator, the real villain of the hour is none other than the fox. Safe in the knowledge that he can no longer be hunted with dogs, has set about reaping vengeance on the canine species and is attempting to frame our beloved Fido.

Any views or thoughts on the matter, please share them and I will ensure they are passed on to the relevant authorities – Worrying times indeed.